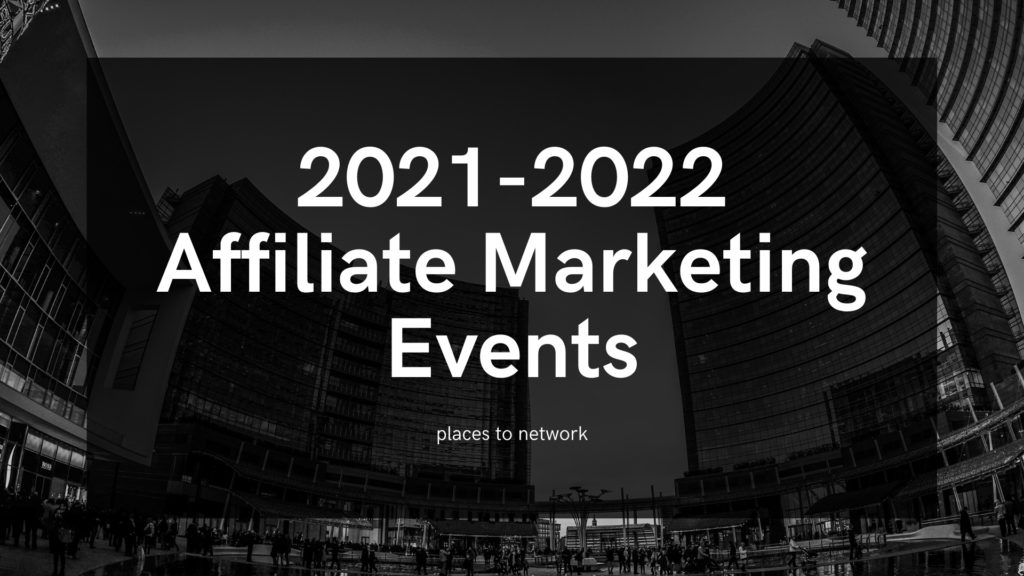 Our team is only a week or so back from TES Affiliate Conference in Prague and we're seeking for new events to attend.
Even though the covid-19 is changing our lives for the third year in a row, there is still a chance to get together at the most influential events in the digital marketing niche.
September 2021
Tel Aviv, Israel
The Israel Mobile Summit is one of EMEA's most influential mobile apps, games, and AdTech events. It's the 10th anniversary of the Summits! Agenda is set as keynotes from senior speakers from leading international publishers, panels about the hot mobile topics, innovation showcases, and contests of the most desirable mobile apps, games, and startups. This event is mainly for the mobile app ecosystem to find interesting content and peers to network with.
September 28 – October 1, 2021
Amsterdam, Netherlands
With iGB Live, from September 28, it brings together operators, affiliates, affiliate programs, and B2B suppliers worldwide. iGB Affiliate Amsterdam is a place for affiliates to communicate to networking.
The event is planned to be crowded with 1,500 fellow affiliates, which is a good company. On average, it will be 4,500 total visitors, so there is no doubt your days will be filled up with meetings with both new and old partners.
October 5-6, 2021
Moscow, Russia
Moscow Affiliate Conference is the place for top advertisers, leading affiliate networks, media buyers, SEO specialists, and marketers worldwide. MAC consists of exhibition & networking zones with more than 3500 attendees, over 250 international affiliates & partners, 30 top expert panel discussions. Last but not least in the row of decision-making points is their fantastic afterparty. Nevertheless, they plan another event in Kyiv, Ukraine.
October 19-20, 2021
London, UK
PI LIVE is the place for performance marketers worldwide. Experts will dig into the most crucial industry developments, providing a platform for industry improvement through open discussion around all aspects of the paid-by-performance advertising model.
November 2-4, 2021
Las Vegas, USA
Another hit place to attend is the influential conference in affiliate marketing. Just imagine:
60+ countries represented,
300+ exhibitors & sponsors,
75+ industry expert speakers
6,000+ attendees
It sounds like you must be there! Don't miss it out!
TBA, 2022
New York, USA
PI LIVE Advanced is still a new conference dedicated to advanced-level performance marketing. This time the show will take place in New York City. PI LIVE Advanced is only a one-day conference with ultra-targeted agenda. It's all about e-commerce-led retailers and advertisers who challenge to enhance their performance marketing strategy from all around the globe.
February 2-5, 2022
London, UK
The main goal of iGB Affiliate London is to help businesses strike more deals and identify more areas for their growth. In early 2019 LAC attracted over 5,200+ delegates to London for 4 days of networking and learning. Returning to London for the 14th time, iGB Affiliate London 2022 is expected to be the biggest one.
February 28 – March 1, 2022
Dubai, UAE
Affiliate World is made to gather the most influential performance marketers and eCommerce entrepreneurs. The organizers will combine the Affiliate World Europe 2021 and Affiliate World Asia 2021 into one massive and intensive Affiliate World Global event in Dubai. It's going to be 2 days filled up with networking events, brainstorm-level content on stage, and the enormous exhibition floor.
February 28 – March 3, 2022
Barcelona, Spain
108,000+ attendees, 2,300+ exhibitors, 208 countries represented – in 2019, Mobile World Congress, was the largest conference in the world for the mobile industry!
In 2022 it promises to be dramatically packed with business opportunities. So in case, you plan to enter the mobile industry MWC is one of the best places for it.
May 26-28, 2022
São Paulo, Brazil
Afiliados Brasil is a well-known affiliate marketing congress in the LATAM region. The affiliate market in Brazil is actively growing and is currently estimated at $100+ million. If you plan to extend your business with the LATAM market, find affiliates and advertisers in the region – Afiliados Brasil is a good start.
November 13-14, 2022
Tel-Aviv, Israel
DMIEXPO is the fastest developing digital & affiliate marketing conference and expo. It gets together the leading affiliate marketers and digital marketing experts. Meet 2800+ affiliates and digital marketers, more than 650 companies, 120 exhibitors, 100+ international speakers- everything in one place.
Final thoughts
Explore the most important digital & affiliate marketing events in the world. Get acquainted with top entrepreneurs. Learn innovation showcases. Extend your business opportunities. And finally, travel and get together with like-minded representatives of adtech industry.