How do you know if your campaign is working? Is it losing you money or making it for you? How much? And if you buy traffic from different sources or run split tests, how do you know which source or test configuration is performing better? Most media buyers use an affiliate tracker.
If you've been in the business for a while, you know how many trackers there are. You've probably tried about a dozen yourself. If you are new to the industry – there are hundreds of tracking platforms and tools.
How do you choose the best one? What features should it have? How much should it cost?
Let's compare the best affiliate trackers on the market and find the answers!
For this research, we've found the most popular trackers on the market and analyzed their features and prices. So you won't have to spend days looking for a solution that best fits your needs.
What's an affiliate tracker?
So affiliate trackers, or traffic trackers, are tools that monitor your website's visitors' activities: what device was used to access your landing page, from what source the user came to you, what browser and OS they used, and which creative attracted more people. You can see all the data on how users react to your ads in a tracker.
The best thing about the trackers is that you can monitor many campaigns and sources simultaneously. You get all the data you need for proper analysis and optimization in one place.
Tracking platforms are essential for testing, organizing your campaigns, analyzing the data, and making informed decisions. Especially if you need to scale up your volumes.
Distinctive features of affiliate tracker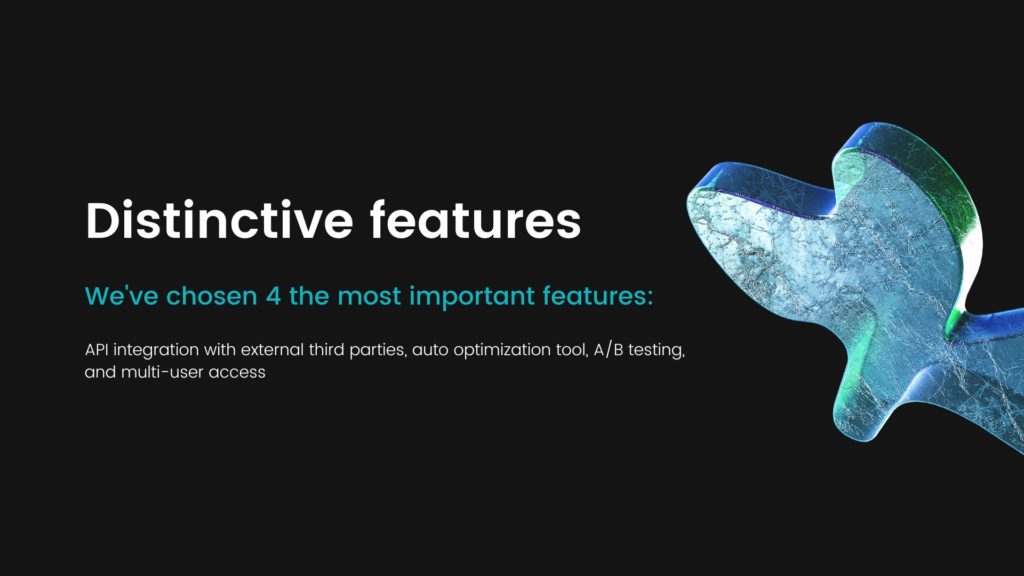 As with any other software solution, there are standard features every affiliate tracker will have. Things like a user-friendly interface, documentation, and reports are to be expected in a tracking platform.
There are, however, distinctive features that are good to have, but not every tracker offers them. These are:
– API. Allows for faster and better integration, collecting and exchanging data.
– Auto-optimization. AI-based algorithms to analyze the data and optimize your campaigns and traffic sources for better profits.
– A/B testing. Allows testing several campaigns simultaneously and comparing the results to help you find the most lucrative campaign settings.
– Multi-user access. Allows giving access with different permission levels to your team members.
Fraud detection with affiliate tracker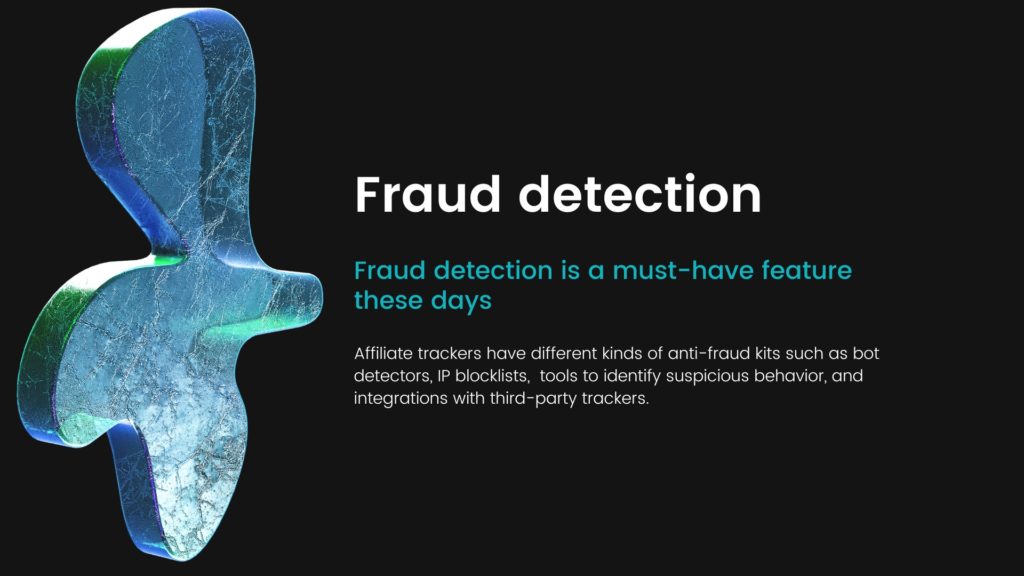 Cybercrime is on the rise, so fraud detection is a must-have feature these days. So we decided it deserves our extra attention. Unfortunately, it is still not among the standard features in traffic trackers.
Here's what we've found in our research:
Customer support of affiliate tracker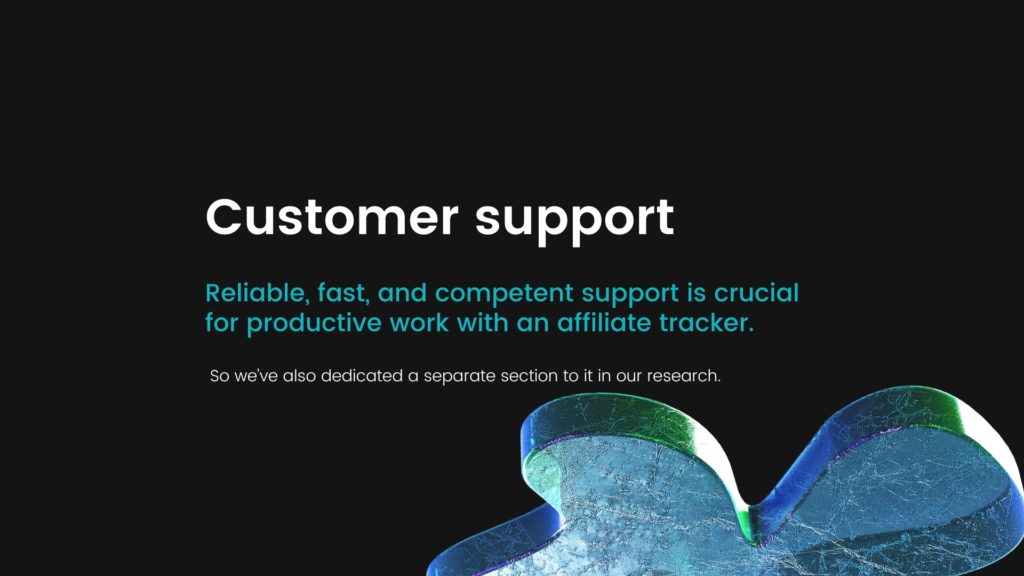 Reliable, fast, and competent support is crucial for productive work with an affiliate tracker. So we've also dedicated a separate section to it in our research. Here are our findings:
Subscription plans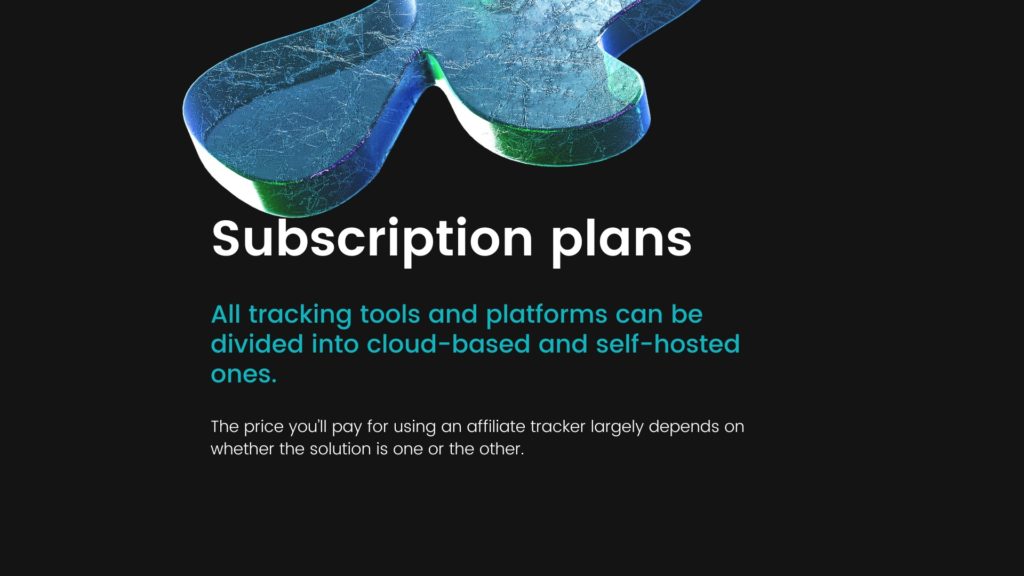 All tracking tools and platforms can be divided into cloud-based and self-hosted ones. The price you'll pay for using an affiliate tracker largely depends on whether the solution is one or the other.
Cloud-based solutions of affiliate tracker
Cloud-based trackers are faster than their counterparts. Their biggest advantage – the processing speed for long-range GEOs is as fast as that for the neighboring ones. So, a cloud-based tracker is a better choice if your campaigns are in different GEOs.
As with other cloud-based software, this type of affiliate tracker does not require much effort in setting up, running, and maintaining.
These solutions are a lot more expensive, though. You will have to calculate the number of events the tracker will need to process to choose a subscription plan. If you miscalculate and exceed the limit, additional fees will be paid.
Self-hosted solutions
Self-hosted trackers work better on campaigns in and close to the country where the server is installed. The further the server is from the country, the more traffic you will lose. So if you need to work with remote GEOs, you'll have to install additional servers.
Choosing a self-hosted tracker requires setting up a budget to purchase the soft and install the server. However, you won't have to pay anything once it's done. You won't have to pay for the volume of traffic that goes through the tracker.
Tools to track your Traforama campaigns with
Of course, you can track your campaigns with any tracking tool. But we love making advertisers' lives easier. So we've chosen the best affiliate tracker and collaborated with them.
Thus tracking your Traforama campaigns with these trackers will be more straightforward.
BeMob is one of the best cloud-based tracking solutions currently on the market. Their feature list is quite extensive and includes everything you might need to effortlessly monitor, analyze, and optimize your campaigns: advanced rules and targeting, multi-language interface and support, fraud protection, automatic optimization, customizable settings, multi-funnel tracking, API-integrated traffic sources, and a lot more.
So the solution is great for everyone, from beginner affiliate marketers to big ad agencies.
The pricing is fair and seems like an excellent cost/feature ratio. There's a free basic plan that covers 100 000 events per month. 1 000 000 per month will cost you $49 and a $0.05 charge for over limit per 1K events. The most expensive package is $499 for 30 000 000 events monthly.
Keitaro is a self-hosted tracker. Its features include split testing, tracking non-unique visits and binding them to streams, quick rotation of campaign streams, more than 30 internal filters, and more.
Their most interesting features are tracking any kind of traffic and not only clicks from the tracker URL and a built-in traffic simulation tool. The first one means you can use Keitaro to track your organic traffic too. So you can use it instead of Google Analytics and have all your data in one dashboard. The second feature allows testing your flows and filters to make sure they work as expected before turning the actual traffic on.
Their basic package is 25€ per month and the most expensive one is 70€.
PeerClick is a cloud-based tracker with a wide range of features and subscription plans. The features include the option to track with or without redirects, multiple conversions tracking, 30+ data points on every visit, real-time monitoring with instantly generated reports, and more.
PeerClick can handle vast volumes of traffic. It efficiently processes over a billion clicks per day on an account, all of it instantly reflected in the reports.
Their pricing plans start with a free plan for 100 000 events monthly and end with $455 for 30 000 000 events.
This one is another self-hosted solution. Binom offers instant click processing, quick reports, 30 click parameters, Improved Postback, Statistics by rules, and a lot more.
Binom is considered to be the industry's leader in the speed of processing clicks and its accuracy is perfect. The platform's spreadsheet-style interface has been mentioned in numerous reviews as a very user-friendly one. It's simply very familiar, so you can start working right away without wasting too much time familiarising yourself with the interface.
Their pricing is very straightforward. There are only two packages – a 14-day free trial and a $99 per month license.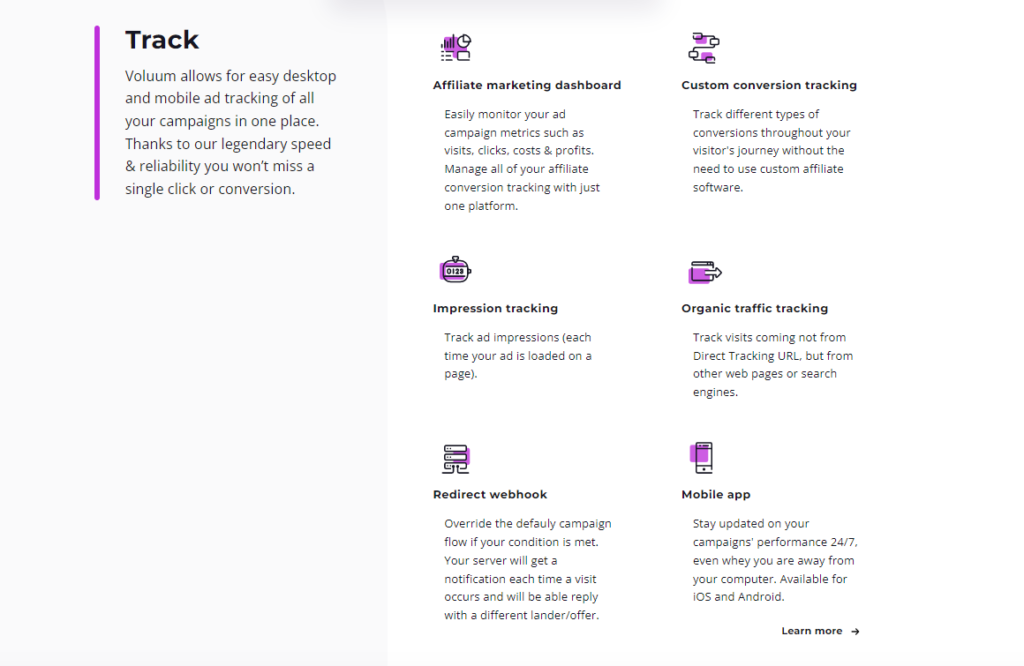 Voluum is probably one of the market's oldest and most popular trackers. It is a very flexible cloud-based tracking solution. Their feature list includes the ability to track all kinds of traffic, fraud protection, real-time reports, rule-based traffic distribution, trend analysis tools, automation, collaboration tools, and more.
Users always praise Voluum for its speed and accuracy. Another distinctive feature of the platform every reviewer loves is its ability to track more than just clicks and visits. Voluum monitors your ad impressions and organic traffic too.
Their pricing range is vast. The cheapest package is $89 per month, and the most expensive one is $1999 per month.
Summary
Affiliate tracker are indispensable tools when it comes to building successful campaigns. The trackers we showed you in this research are only a dozen of hundreds. Traforama can be your traffic source for any of them. Just use our conversion tracking or pixel.
Have you tried any of the trackers we researched? Can you recommend any other tool we didn't mention above? Share in the comments below!