The adult gaming industry is a rapidly growing market with an engaged audience. It's high time we give you an actionable algorithm to break into this promising niche with less doubt and more profit. So today, we will look closer at the vertical, see what offers it might include, and share tips on launching powerful ad campaigns for your xxx and mainstream gaming offers. 
All the stats, tips, and insights in this post are based on the Traforama and AdSpyglass reports and statistics.
What exactly is the adult gaming ad vertical and what offers can it include
Generally, the gaming ad vertical refers to a specific advertising category or niche promoting gaming-related products and services. This can include advertising for video games, gaming consoles, gaming accessories, gaming events, and other gaming-related products or services. In our case, though, the gaming vertical refers to ads of adult-themed and mainstream games.
The gaming ad vertical typically targets gamers and gaming enthusiasts across various platforms and devices. You may use a variety of advertising formats, such as banner ads, video ads, native ads, etc. But we will get to the best format for gaming ads in detail next.
The gaming ad vertical is a growing industry, with the global gaming market expected to reach over $219 billion by 2024. Plus, the number of adult games and demand for them is growing yearly. As such, the competition among gaming advertisers is fierce, and staying on top of trends and best practices is critical for success in this vertical.
Tips on ad formats and creatives for gaming offers
When it comes to gaming advertising, you can consider several ad formats and creatives. But according to our stats, pop ads are the best ad formats for gaming offers.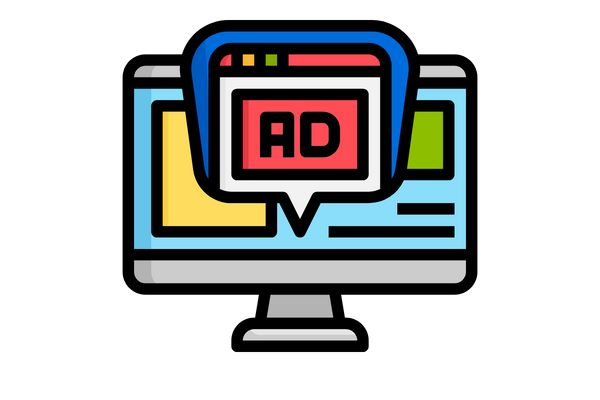 What's a pop ad
Pop ad is an advertising format displaying an ad in a new browser window or tab. In Traforama, we distinguish four subtypes of pop ads: Popunder, Popup, Tabunder, and Tabup. The sub-types differ by the way they open. Popunder and Tabunder open behind the active browser window, but Tabunder opens in a new tab. And Popup and Tabup open above the active browser window, Tabup being opened in a new tab.
Out of all the sub-types, popunder is the most popular format. Popunders are often used in digital advertising campaigns as a way to display ads without interrupting the user's browsing experience. The ad is loaded in the background and is only visible when the user finishes browsing the current page and closes or minimizes the window.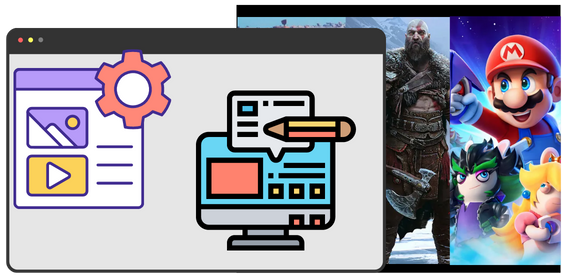 Because of their distinguishing feature, popunders are often considered less intrusive than pop-ups. However, some users may still find popunders annoying, especially if they are used excessively or are irrelevant to the user's interests.
There's an additional reason why popunder is a great format for your gaming offers. It allows using a variety of creative types. Popunder usually leads to a landing page, and you can have whatever you want on a landing page – a video ad, an image-based ad, a playable ad, you've got the picture. This is an excellent opportunity to choose several different creatives and test them on your target audience to see which ones perform better for your particular offer. A good campaign is always based on data, after all.
Stats show that the best-performing gaming ads use these creative types:
Playable Ads
These ads allow users to interact with a demo version of your game before downloading it. This format is highly engaging and can drive high-quality installs. Ensure the playable ad accurately reflects the gameplay and is enjoyable to play.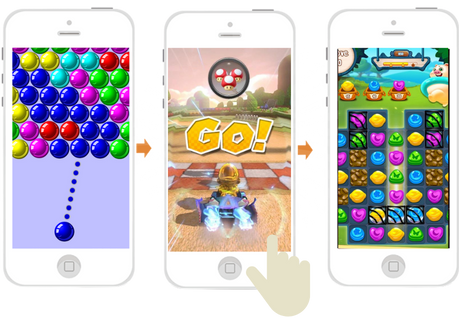 Video Ads
Video ads are considered to be more engaging than other forms of advertising because they capture the attention of the viewer and hold it for a more extended period of time. This is especially important in the gaming industry, where competition for attention is high. Ensure your ad is visually appealing and showcases the game's most exciting features.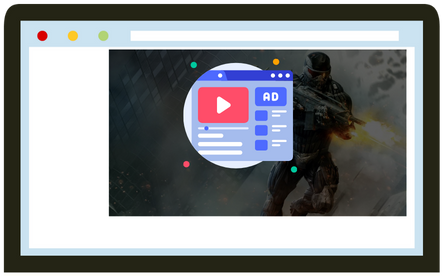 Tips for your creatives
Use Engaging Visuals. Gaming ads often feature bright and colorful visuals to grab users' attention. Consider using dynamic animations and flashy graphics to make the ad stand out.
Show Gameplay. Showcasing gameplay footage effectively demonstrates the game's mechanics and highlights its most exciting features. Consider adding text overlays or voiceovers to explain the gameplay.
Make sure the ad includes a clear CTA, such as "Download Now" or "Play for Free." The CTA should be prominent and easy to click.
Remember, the key to effective gaming ads is to create relevant, engaging, and visually appealing ads for your target audience.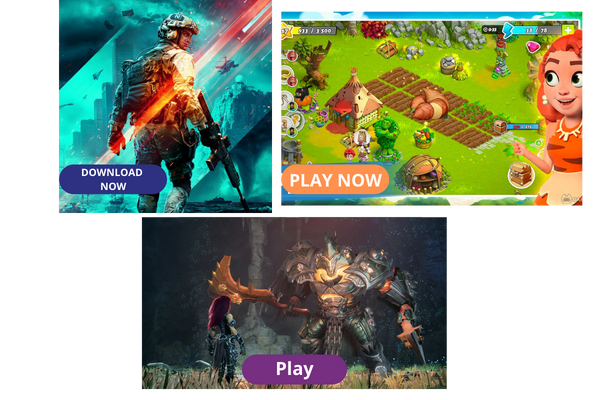 Top GEOs for your gaming offers available on Traforama


Traforama works with publishers from all over the world, we are sure you can find the target audience for your gaming offers here. However, some of the available countries might not perform as well as you want. But don't fret, we will share a sure way to find the best-performing sources for your ads next!
CPMs

| | | | |
| --- | --- | --- | --- |
| | Popunder CPM | Banner CPM | Preroll Video CPM |
| India | $0.26 | $0.006 | $0.05 |
| United States | $1.77 | $0.047 | $0.50 |
| Germany | $1.19 | $0.032 | $0.39 |
| Japan | $1.03 | $0.020 | $0.37 |
| China | $1.81 | $0.036 | $0.31 |
| France | $1.22 | $0.037 | $0.37 |
| United Kingdom | $1.39 | $0.049 | $0.42 |
| Italy | $1.11 | $0.036 | $0.27 |
| Vietnam | $0.90 | $0.012 | $0.17 |
| Turkey | $0.56 | $0.002 | $0.14 |
How to get the best ROI on your gaming ad campaigns
Traforama is designed to help you make the most of your advertising budgets. Basically, the platform is a set of tools to create and run effective ad campaigns with the best possible ROI.
So how do you achieve that for your gaming ad campaigns? Of course, you can use Traforama however you like, experiment with the tools and reports, and find your own way to run your campaigns. But we can offer you a strategy that brings excellent results every time.
Step 1. Create a test campaign
First, you need to test ALL the sources for traffic for gaming offers available on Traforama. Create a new campaign and give it a name. Let's call it Gaming General. You can, of course, name your campaigns however you like.
Don't have a Traforama account yet? Get one here.
1.1 Set the budget
Let's say your test budget is $50 per day. Don't forget to set up hourly limits. Otherwise, you'll burn through your daily budget for traffic for gaming offers in an hour. For this example, let's make the limit $2 per hour.
1.2 Set average CPMs
When you are done filling up the initial campaign settings and click the Create button, the platform sends you to your next step – adding a creative. Here you need to fill in the form. The important thing for this short tutorial here is setting the CPMs to the average. You'll probably get unsatisfactory traffic if you go with the minimum prices.
To get the current average CPM for popunder, go here or contact our support team.
1.3 Track and analyze your conversions
Traforama supports two options for conversion tracking – pixel and postback URL. Here you'll find more details on them.
When your Gaming General campaign is live, you need to analyze the data. When you start your analysis doesn't matter, but you need to have enough data to make informed decisions. So we recommend paying attention to those spots that got you over 1000 impressions. If a source got over 1000 impressions for your gaming ad, but the CTR is low, the spot needs to go to the block list.
1.4 Form a block list for your Gaming General campaign
This step is the key to finding the best sources and getting the highest ROI for your gaming ads. When there's enough data, you can see the underperforming sources clearly and quickly eliminate those websites from your campaign. All you need to do is add them to a block list.
Download your CSV report, filter the spots with over 1000 impressions, and sort them by the CTR. Now that you have your list of bad sources, you need to import it to your Traforama marketplace.
Continue monitoring the conversion rates on the spots left in your General campaign list. Add the unsatisfactory sources to your block list whenever you find them.
Step 2. Create another campaign
The test campaign from step 1 serves one purpose – to help you find the best-performing sources for your gaming offer. When you have enough data from ALL the sources available on Traformama and have eliminated the underperforming ones with a block list, you can easily see the spots that get you the most conversions. What do you do with them? Whitelist them!
2.1 Create a new campaign by cloning your Gaming General campaign. Let's call the new one Gaming Best.
2.2 Whitelist the sources that give you the most conversions.
2.3 Raise the CPM rates. This way, you will buy out more of the traffic that brings you the most results.
Meanwhile, your Gaming General campaign will get all the new sources and continue finding you the good and bad spots at lower rates.
Step 3. Repeat the process a few times
Repeating the process a few times will help you finetune your Gaming ad campaign, stay within budget, and get the best ROI possible.
If you need help or have questions, contact our support team. We are here to help you launch powerful ad campaigns for your xxx and mainstream gaming offers with less doubt and more profit!
As you can see, Traforama is the perfect platform for buying traffic for gaming offers. Even if you are at the beginning of your advertiser journey and just want to promote an xxx game you designed, Traforama will help you find your audience and stay within budget. And if you are an experienced advertiser or a media agency looking to break into the promising new market, we've got you covered too!